I've been reading some good stuff on this guy. 22 years old, 6'5 200lbs can git 97mph on the gun and has been labeled "The Franchise" by his teammates. He looked good in his 1st start against the Marlins but got in a little over his head against Cincy tonight after he laid out a fat one to Adam Dunn but I was impressed with his pitch selection and velocity. With most hard throwers control can be a problem but he has 2 off-speed pitches (curve and change) to compliment his high 90's fastball. He really has had a breakout year in the minors and has been told that he will stay in the Nationals rotation. But at only 22, those skills might translate into a stud top of the rotation starter. Keeper and dynasty leagues have been warned.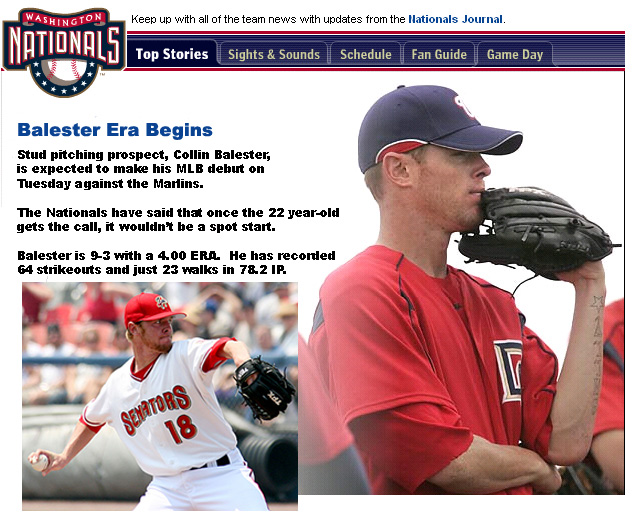 The Good: Balester's greatest strength is his lack of any glaring weakness. He has a big body, clean mechanics, and his fastball sits consistently in the 90-94 range, which he also commands well. His plus curveball has heavy late break and is his best pitch, and he also has a decent changeup.
The Bad: Balester's biggest weakness is his lack of any obvious strength. He doesn't have any plus-plus offerings, and is often quite hittable, as his fastball doesn't have a lot of movement. His changeup is his weakest pitch, leaving him susceptible to left-handed hitters at times. BP
He was 9-3 with a 4.00 ERA and struck out 64 batters in 78 2/3 innings at Triple-A Columbus. NL-only leaguers will probably want to take a wait-and-see approach.
Source: Nationals.mlb.com
Monday, February 18, 2008

Position: Pitcher

Age: 21

Height: 6-5

Weight: 190 pounds

Born: San Francisco

How acquired: Selected in the fourth round of the 2004 player draft

2007 statistics at Class AA Harrisburg: 17 starts, 98 2/3 innings pitched, 2-7 with a 3.74 ERA

2007 statistics at Class AAA Columbus: 10 starts, 51 2/3 innings pitched, 2-3 with a 4.18 ERA

Minor league totals: 82 games, 79 starts, 437 1/3 innings pitched, 18-23 with a 3.99 ERA

Personal: His father, Tom, runs a surfboard manufacturing company, and Collin credits his surfing background with building arm strength.

Scouting report: "His strengths are his size, delivery and fastball command," general manager Jim Bowden said. "He can put the ball where he wants to in the strike zone. He can run it up 92 to 94 [mph].

"Some things he needs to work on are his grip on his fastball. He opens up his fingers. He jams the ball back in there a lot. He has a pretty good curveball, although our people are mixed. Some people think he should go to the slider instead of the curveball. He has a decent change-up. Our people feel that he can get into the rotation at some point this year."

The Washington Times will run capsule Prospect Profiles throughout the spring on Nats Home Plate.
http://www.youtube.com/watch?v=4on40ObnrMY